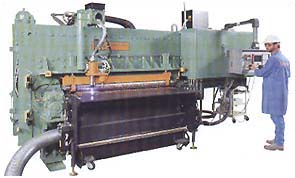 The Peddinghaus FPB1500
is ideally suited for heavy plates with many holes requiring tolerances in the +/- 1/16" range. The machine punches holes using a 177 ton hydraulic cylinder and then burns the perimeter of the part features using 200 AMP plasma. Center punching and scribing of reference points are easily accomplished. With this machine we are often able to punch holes that are smaller in diameter than the thickness of the plate which costs significantly less than drilling.
One of the unique characteristics of this equipment is that it is equally comfortable processing 1-1/2" wide flat bar as it is 61" wide plate. The idea of using flat bar permits the finished parts in many cases to be sized to the width of the stock material. This reduces the amount of cutting if the rolled edge of the material is satisfactory for the end product.

For example: A 1"x12"x12" plate needs to be machined with four 13/16" holes and one 6" hole. A conventional burning machine would have to cut all 4 edges of the part amounting to 48" of cutting plus 19" for the circumference of the 6" circle. The 13/16" holes would then have to be drilled as a separate operation.
On our equipment using a 1"x12" flat bar, all four of the 13/16" holes would be punched in less than 10 seconds, the 6" hole would be burned and then only a 12" cut would be required to separate each piece from the next. This amounts to a significant savings over the previous method.

FPB 1500 Heavy Capacity Plasma Punch