Wilton Corporation was founded as a miscellaneous metals fabricator serving the bridge and heavy highway construction markets. Over 25 years in business the company has prospered and diversified into other markets and currently operates a division called Automated Plate Processing that specializes in high technology processing of metal and non-metal parts for the construction and manufacturing industries.
Wilton maintains a staff of engineers to develop innovative solutions to complex projects such as bridge rehabilitation. Often times Wilton is called on to repair bridges that are 50-60 years old. This type of project is particularly challenging as the materials and methods used 60 years ago are not necessarily available today.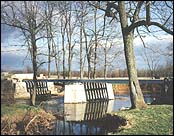 Common products fabricated for bridges both new and old are bearings, expansion joints, guardrails, pedestrian railing systems, and underbridge water mains. On bridges under 75' in length, the entire structural steel system can be supplied.
As an additional product line, wilton stocks underdrain and electrical conduit materials used on bridge and highway projects.
In recent years, Wilton has purchased an additional 27,000 SF building to accommodate future expansion. Moving forward, Wilton is anticipating the installation of robotics welding cells in 1999..